The Lightning Thief
Written by Rick Riordan
Reviewed by Dane L. (age 9)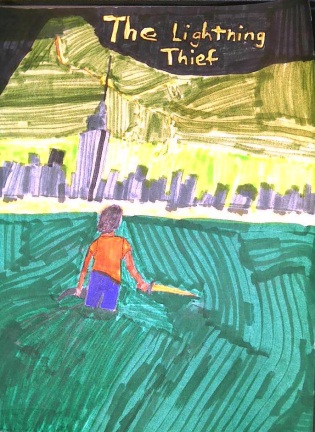 The Lightning Thief is the best book I've ever read! There are some funny parts in the book. Percy Jackson (the main character) is the son of Poseidon the God of the Sea. People are worried about another war between the Gods. Percy goes on a quest to find the stolen master bolt for Zeus. Will Percy be able to get it?
My favorite part was when Percy fought Ares on the beach of Lose Vegas. Ares was winning, but then Percy thought of small waves and then yelled, "Wave", and a 6 foot wave hit Ares and knocked him over. As Percy landed he stabbed Ares in the ankle and won the fight.
My favorite characters are Percy and Anebeth. I like Percy because he is brave and strong like when he fought Ares on the beach of Lose Vegas. I like Anebeth because she was helpful and interesting. Like when she distracted the three headed dog in the underworld.
The story reminded me of when we go camping and go on a crazy adventure.
I recommend this book to people ages 8-108 and people who like action!