Stellaluna
Written by Janell Cannon
Illustrated by Janell Cannon
Reviewed by Kate B. (age 9)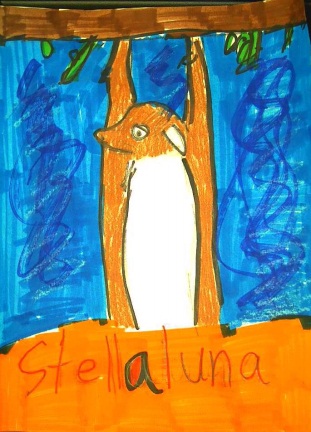 This book is about a little baby bat named Stellaluna growing up with birds. She is growing up with birds because when she was a really tiny baby she and her mother were going for some food. An owl spied them, then the owl scared the mother and Stellaluna flew in the air and Stellaluna fell into a nest with a family of birds.
My favorite part was when Stellaluna and the three birds were hanging by their feet on the edge of the nest. I like this part because the birds hair is sticking up when they got back into the nest and it is funny.
My favorite character was Stellaluna. She was really funny when she tried to land on her feet. I liked that she tried to be the best bird, but she was a bat.
I think the part when Stellaluna ate a big juicy mango was really special. Her cheeks were really puffed up and she looked like a chipmunk.
I really liked this book because it makes kids imagine about nature. I think 1st-3rd graders should read this book.