The Legend of the Blue Bonnet
Written by Tomie dePaola
Illustrated by Tomie dePaola
Reviewed by Ralph (age 11)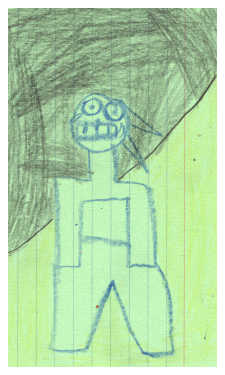 The Legend of the Bluebonnet by Tomie DePaola is about a girl and her father and her mother and her grandmother and her grandfather died. Her father brought her blue feathers from a special flower before he died and her grandmother made her a warrior doll and it had a belt of polished bones. She put the blue feathers that her dad got her on the doll. The spirits were going to kill the whole village if they did not give their most prized possession for the spirits. Then when the whole village went to sleep, the little girl went up to the tall hill and she threw the doll into the fire and then when the fire went out she picked up the ashes and threw it in the air. Her mother, father, grandmother and grandfather went to the four sides of the earth. When the village woke up the next day the spirits gave the village special blue flowers, called Wolf Flower (that is another word for the Bluebonnet) and the village was happy when they woke up the next morning.
My opinion is that the book was really great. You should read the Legend of the Bluebonnet because it was a really good book. I liked the spirits because they were her mother, father, grandmother and grandfather. It was real sad because her parents died. The illustrations were nice because it showed how the natives lived back then. I think that a kid would like to read a legend book, because it shows how they used to suffer and try to get food and water. My favorite part of the book was when she gave the doll to the spirits and the four of them went to the ends of the world, because it was sad. I liked the ending because they were happy and they didn't have to fight.
I recommend the book Bluebonnet to all my friends because all my friends like books about legends that tell how people lived back then. I recommend this book to my mom and dad because they like to read books a lot. They will read any type of book because it keeps them calm. I would like the people from the Spaghetti Book Club to read the book because they will think its real good.