Ramona Quimby, Age 8
Written by Beverly Cleary
Illustrated by Alan Tiegreen
Reviewed by Jacob G. (age 8)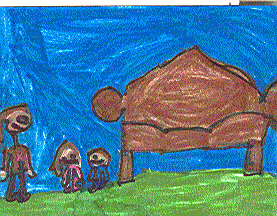 The book Ramona Quimby Age 8 is about Ramona moving into third grade. She liked the first day of school, but things got worse every day. One day Ramona got egg in her hair and overheard her teacher call her a nuisance. One day the worst thing happens – Ramona throws up at school. One night when they went to a restaurant a stranger paid for their dinner. Everybody – even Ramona – cheered up after that.
I liked the book Ramona Quimby Age 8 because some of the stuff that happened in the book happened to me, too. The story made me laugh, and I like funny books. My favorite part was when Ramona tricked Willa Jean, Howie's little sister. It was my favorite because I trick my brother, too. My favorite character was Ramona because she reminded me of myself. My favorite thing about the book was that Ramona was moving up to third grade because I thought it might tell me something about when I go to third grade next year. I think it's better than the other books in the series because I could relate more to what happened in this book than in the others.
I recommend this book because it's a good book for second graders. It's a long enough book for second graders. I think my friend Malloy would like to read this book because she's a second grader and I think she'd like the characters. I think people would like the part when Ramona tricked Willa Jean because it was my favorite part and it was funny.