Magic Tree House Revolutionary War on Wednesday
Written by Mary Pope Osborne
Illustrated by Sal Murdocca
Reviewed by Preston W. (age 8)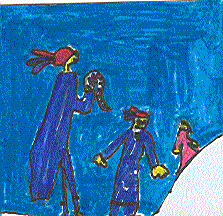 This story is about two kids who go where the Revolutionary War is happening. One day Annie woke Jack up. They went into the treehouse and it started to spin. When they came out of the treehouse, they saw the American patriots. They got to ride in a boat with General George Washington and some patriots. They even got to hear General Washington read a poem! After that, Jack and Annie went back into the treehouse and they were back home again.
I liked Revolutionary War on Wednesday. A good part was when George Washington read a poem. That was my favorite part because when the soldiers heard the poem it made them want to fight. I liked when one of the soldiers wrote the poem for his kids, too. The illustrations were good. They had lots of details in them, and they matched the story. I felt happy when I read this book because I liked that the soldiers didn't give up.
I recommend this book because it makes me feel happy. I think third grade boys and girls would like to read this book because it's a third grade chapter book. I think people will like the part when General Washington reads the poem because the poem made the soldiers want to fight in the war again.