Magic Tree House: Summer of the Serpent
Written by Mary Pope Osborne
Illustrated by Sal Mardocca
Reviewed by Peter Z. (age 8)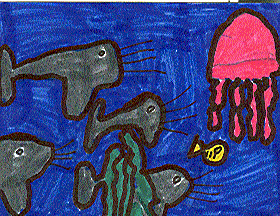 Two kids named Jack and Annie were heading to a magic tree because they had a mission to find the sword of light and help Merlin get his power back. They went to a beach where they met two seals. The seals were their friends. Soon Jack and Annie were seals, too, because their friends turned out to be sorcerers who could do magic stuff, including turning themselves and other people into seals. Annie and Jack later found the sword of light and finished their mission.
This was a very good book. I liked it because I like Magic Tree House books. My favorite part was when the main characters were seals swimming because I like to swim. My favorite character is Teddy because he's funny. This book is in a series I like. It is similar to their 28th mission because in their 28th and 34th mission they're both on beaches.
I am going to recommend this book because it was a really good book. I really like Magic Tree House books because of the magic in them. I think Olivia would like this book. I think she would like every part, but especially when they find the sword of light because it's an exciting part.