American Girl: Shadows in the Glass House
Written by Megan McDonald
Reviewed by Carson C. (age 7)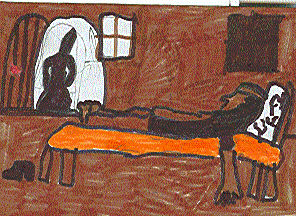 One day a man kidnapped a girl named Mary from London and took her to Jamestown to be a servant in the captain's glass house. This book is a mystery because two other men were bad guys who were trying to get a formula from Alongo, Mary's best friend. The bad men thought the captain of the glass house had stolen the formula from Alongo. So one night one of the two bad men sneaked into the captain's house and killed him so they could look for the formula in his house. But a few days later Mary solved the mystery and the two men were hanged for what they did. After that, Marry found the good luck coin in a piece of wedding cake, and her good luck began.
I liked this story because it was a mystery. I think other people will like this story because it is a really, really, big, big mystery. I liked this story, too, because it was a long book. My favorite part was when the mystery started. One of the characters I liked was Alongo because he was a boy and he was cool. This book is part of a series call American Girls. It is a lot like the other books in the series. I had a lot of fun reading this book.
I recommend this book because I like mysteries. I think my mom would like the book. My mom likes long mysteries like this one. I think my mom's favorite part would be where the mystery begins because she likes starting new mysteries.