Magic Tree House: Dragon of the Dawn
Written by Mary Pope Osborne
Reviewed by Andy W. (age 7)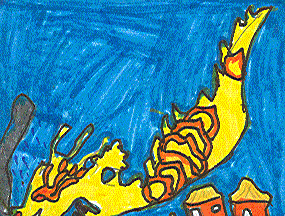 Once a woman named Morgan told Jack and Annie to find the magic of happiness. She thought they would need to go to Tokyo to find it. They used the Magic Tree House to go to Tokyo and when they got out of the tree they saw an old man. The old man helped them find the magic of happiness. The next day there was a fire in the town. Jack and Annie used a wand that was part of the magic of happiness to find a dragon who breathed rain clouds, so they rode on the dragon and put out the fire!
I liked Dragon of the Red Dawn because I like samurai. I liked the way the dragon was one of the good guys. I liked the part when the old man thought of his cottage as being a castle. I like when Jack and Annie rode on the dragon that breathed rain clouds! My favorite part was when Jack and Annie were trying to eat sushi with their fingers because they couldn't pick it up with chopsticks. It is like some of the other books I've read because the book is in a series.
I do like this book mostly because of the dragon. It was like a book-in-a-book because it had true stuff and made-up stuff in it. I think my brother will like this book because he likes stuff I like. Some Japanese people might like it because it's about Japan. My dad might like it because he likes stories. People who want to learn will probably read it. People who like to read books-in-books might read it. Their favorite part of the story would be the funny part where Jack ate his sushi really fast. I think people will laugh when they read that part.