Junie B. Jones Has a Monster Under Her Bed
Written by Barbara Park
Reviewed by Sydney T. (age 7)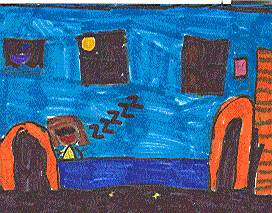 This book is about Junie B. Jones having a monster under her bed. Junie B. is having a good time at school because it is recess. Then a boy told her that everybody has a monster under the bed. That night, Junie B. Jones got her Grandma Miller to vacuum under her bed, but Junie B. Jones still did not sleep the whole night. The next day her Grandma Miller got the vacuum cleaner bag and threw it away just in case the monster was inside. Junie B. Jones felt better after that and got to sleep.
I like this book because it reminds me of myself when I was little. I thought that a monster was under my bed and I got scared. My favorite part was that Lucille said, "EEEW, GROSS!" Everybody said, "EEEW GROSS!" too. That was really funny. I felt awesome when I read this book – it was really, really good!
I recommend this book. I thought it would be a good book because I love monsters and I had never read this book. I think Ms. G. would like this book because she reads just about every book. I think her favorite part would be when Junie B. Jones squinted and made a funny smile. I think everybody would like this book because it is cool! It could scare you.