Magic Tree House: Sunset of the Sabertooth
Written by Mary Pope Osborne
Illustrated by Sal Murdocca
Reviewed by Olivia H. (age 8)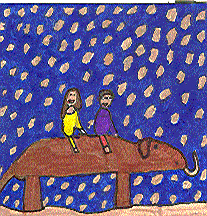 This story is about two children named Jack and Annie who go on trips in a Magic Tree House. In this book, Sunset of the Sabertooth, Jack and Annie go back in time to the Ice Age. They have to find four things for Merlin, and in this book they find a mammoth bone. In every Magic Tree House book Morgan, who owns the Magic Tree House, always sends somebody to help Jack and Annie with the riddle. In this book Jack and Annie meet a sorcerer and a mammoth who help them. They also meet a sabertooth that DOES NOT help Jack and Annie.
I like this book because I like the characters a lot. They are Jack, Annie, Morgan, King Arthur, and, well sometimes, Teddy, and Merlin. [These are the main characters.] I like Teddy the most because he's a cute little dog, but he's not really a dog. Teddy just wanted to try out a new spell and when he did it he turned into a dog. Jack and Annie are smart but they're also really funny. Merlin is never funny; he's really curious. Morgan is pretty and always serious. King Arthur is, well, never in the story, so I don't know what he's like. My favorite part of the book is when Jack and Annie ran into a sabertooth and the sabertooth was staring right at them like he was going to eat Jack and Annie, but the Sabertooth didn't. So, again, this is a really good book.
I recommend this book Sunset of the Sabertooth because it's funny! The part about when Jack and Annie ran into the sabertooth is good, and there's also a parade that happens when Jack and Annie were on a woolly mammoth. That was funny until the sabertooth showed up. I think all my friends would like to read this book. I think their favorite part would be the same as mine – when the sabertooth saw Jack and Annie, and they thought he was going to eat them.