Magic Tree House Monday with the Mad Genius
Written by Mary Pope Osborne
Illustrated by Sal Murdocca
Reviewed by Will S. (age 8)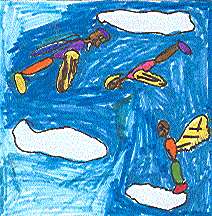 This book is about a boy named Jack and a girl named Annie. They're on a mission to work with Leonardo da Vinci all day long. Jack and Annie go to Leonardo's workplace and see a painting that won't dry. They build a fire to help the painting dry, but it messes it up – it starts to melt! Jack and Annie put out the fire, but Leonardo feels sad and goes back to his workshop. They have more adventures together including flying – before they use the magic tree house to get home.
I liked this book because the people in the story are half-way bird and half human. Jack reminds me of myself because I like to read and go on adventures like him. My favorite part was when they turned half human and half bird and fly around. That was my favorite because it had a cool picture, and birds were flying around them, too.
I recommend this book because it has magic and adventure-it's really cool. I recommend this book to my friend Landon. I think his favorite part would be when they fly around with birds. I think he'd like this part because he likes nature and adventure.