Magic Tree House: Night of the Ninja
Written by Anne Mazer
Reviewed by Bennett P. (age 8)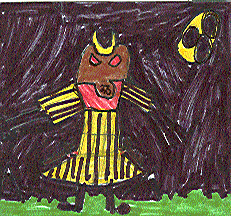 Jack and Annie went to the Frog Creek woods to see if Morgan Le Fay was there. They found a note from Morgan Le Fay; it said that they had to find four things to help them break a spell. The magic tree house took them to the time of the ninjas. They met two ninjas, and Jack and Annie asked the ninjas to help them. Together they found one of the four things to break the spell.
I liked the book because it had ninjas and adventure. I like ninjas and adventure. I felt good when I was reading the book because it makes me wonder what ninjas are like. I liked Peanut the mouse because she helped Jack and Annie go over a bridge. My favorite part of the book was when they showed a picture of a samurai. It was cool!
I recommend the book because the story was good. I think my friend Silas would like to read this book because he was in karate and likes ninjas .The part of the story that I think people would like is when Jack and Annie saw a samurai. People would like that because I saw an illustration of it and it was cool.