Nancy Drew Notebooks: Dollhouse Mystery
Written by Carolyn Keene
Illustrated by Jan Naimo Jones
Reviewed by Avery T. (age 8)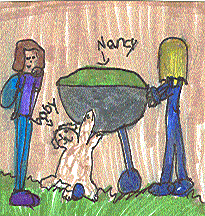 This story is about a girl named Nancy Drew. At the beginning Nancy walked her neighbor's dog, Baby. When Nancy came to walk again, her neighbor said that she could not walk Baby anymore because someone stole five pieces of dollhouse furniture and she thought Nancy did it! Nancy felt sad, and decided she would find out who really stole furniture. Nancy found out that her neighbor's granddaughter had just hidden it. Nancy could walk the dog again.
I liked this book because sometimes it was funny, but other times it was sad. I had fun reading it. It had lots of exciting parts in it – like when Nancy solved the mystery. My favorite character is the dog, Baby, because it reminds me of my dogs. This book is special because I've never read a mystery book. It is the first Nancy Drew book I've ever read, but I don't think I'll read another one because I'm used to reading other kinds of books, like Black Lagoon. I just think other types of books are more interesting.
I recommend this book because I had fun reading it. I think my friend Dora would like it because she likes mysteries. I think she would like it when Nancy hid behind a giant teddy bear. It made me laugh, and Dora and I laugh at the same things.