Magic Tree House: Twister On Tuesday
Written by Mary Pope Osborne
Illustrated by Sal Murdocca
Reviewed by Tom L. (age 8)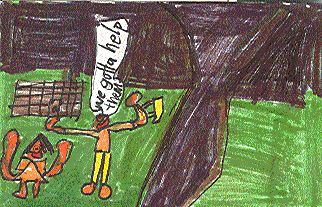 This story is about Jack and Annie when they take a trip to pioneer life. First, Jack and Annie wake up and go to the magic tree house. Next, they find themselves going to school in Texas. They have a bully in their class that won't even talk to them. When they are going home a twister breaks out, and Jack and Annie get everybody in the storm cellar. Last, they become friends with Jeb the bully.
I liked Twister on Tuesday. I liked it because of the illustrations. They were good, and they made the story more interesting. I also liked the story because Jeb (a bully) turns nice at the end. The pictures I had in my head while I read the book made the book kind of funny. The twister reminded me of when I was in one. The story made me feel good because it was fun to read.
I recommend Twister on Tuesday. I recommend it because it was a mystery book and because it was adventurous. I think this is a book for second and third graders because the words are for those grades. I think people would like the twister part best because it's fun and scary at the same time.