The Magic Tree House "The Day of The Dragon King"
Written by Mary Pope Osborn
Illustrated by Sal Muduca
Reviewed by Grant D. (age 8)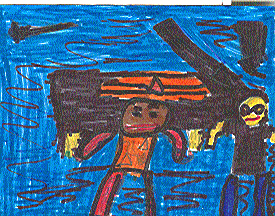 At the beginning of the story, Jack and Annie get in the tree house and go to China. When they are in China they meet a silk weaver, and she gave them a yellow ball of thread. Then they got in a huge wagon and rode to the city; the man who is driving tells Jack and Annie that the Dragon King wants to burn all the books in China. After that, they see smoke in the air – it's the Dragon King, and he's burning all the books. They try to stop the Dragon King, but Jack and Annie got lost in a dark place. At the end, the yellow ball of thread gets them out and back home.
I liked Day of the Dragon King by Mary Pope Osborne. I liked the book because it made me feel like I was in China. My favorite part of the book was when Jack and Annie try to stop the Dragon King. It was exciting because it made me think something big was about to happen. The Dragon King was my favorite character. He had a tomb that had lots of fake soldiers guarding it- I thought that was a little funny. It was one of the best books I ever read.
I recommend Day of the Dragon King because it is easy, funny, and cool. I think my friend Hayden would like the book because he is in the second grade and likes those books. I think people would like when Jack and Annie try to stop the Dragon King because they have a lot of confidence and they work really hard.