Tennessee Facts and Symbols
Written by Kathy Freeney
Illustrated by Linda Clavel
Reviewed by Brett R. (age 7)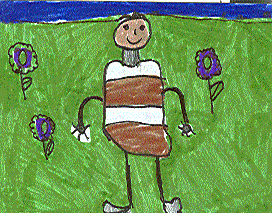 This book is a book about Tennessee. It tells facts about things like the state bird. The state bird is the hummingbird. The passion flower is the state flower. Actually, there is another state flower called the iris. The illustrations in the book are mostly close-up photograph.
This book is a good Tennessee book. It shows a lot of information about Tennessee. This book makes me want to go to Tennessee. I like the pretty pictures in the book. They were my favorite part. I especially liked the passion flower – it was really pretty.
I recommend this book because I think it is interesting to know about Tennessee. I think my babysitter would like this book because she really likes Tennessee. I think she would like the pictures of the flowers best of all.