Joshua T. Bates In Trouble Again
Written by Susan Shreve
Illustrated by Roberta Smith
Reviewed by Katie D. (age 9)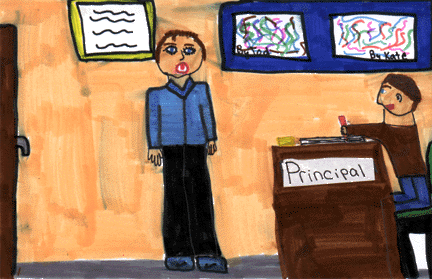 ?Oh no! I?m in trouble again.? Joshua T. Bates just got promoted to the fourth grade. Now somehow the principal found out that Joshua brought something dangerous of his father?s to school. Joshua wishes he was back in third grade with his nice teacher.
Whenever I stopped reading I was left wondering. This book is like your shadow because it follows you everywhere. Although I wouldn?t want to be Joshua?s friend (because he?s a trouble maker and he would get me in trouble) I couldn?t put down this book, it was that good.
I recommend this book to a person that likes exciting and surprising books. After reading this book, you may want to read - "The Flunking Of Joshua T. Bates", and "Joshua T. Bates Takes Charge".