Max's Dragon Shirt
Written by Rosemary Wells
Reviewed by Shahed (age 7)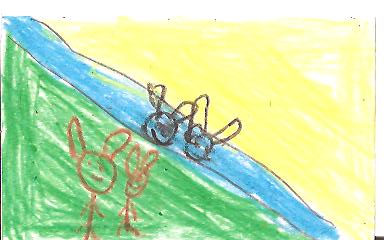 Have you ever read a book about a bunny who wanted a dragon shirt? Max wanted a new dragon shirt. Max is the main character. Max is a bunny that has dirty clothes. He has a big sister named Ruby. Ruby is supposed to help Max buy new pants, but Max says he wants a dragon shirt. Their mom gave Ruby five dollars to buy Max new pants. When they went shopping, Ruby got distracted and tried on new clothes. Max went to sleep in the changing room, and then Ruby was gone. Max went looking for Ruby, and then he found a dragon shirt. Read this book to find out what happens when Max finds the dragon shirt!
I liked the book because it was funny. I like the part when Max eats ice cream with the policemen and the teenager. This books is a great book because Max wanted a shirt and Ruby said no. I like Max because he is quiet and sometimes doesn't make sense. I am like Max because sometimes my mom says I need new jeans, and I want sweat pants instead because they are comfortable.
I think my little brother, Sajjad, would like this book because he is more like Max than me. Sajjad always wants gum and candy when my mom says no.