Happy Birthday Biscuit
Written by Alyssa Satin Capucilli
Illustrated by Pat Schories
Reviewed by Ann Marie B (age 7)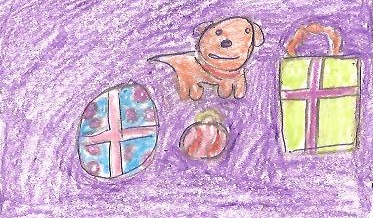 Do you like puppies? This book is about a puppy named Biscuit. The little girl wakes up her puppy. Then the little girl surprises Biscuit with a birthday party. The little girl tells Biscuit, Daisy and Poodles that it is game time. Then Biscuit, Daisy and Poodles get to have birthday treats. At the end, Biscuit wants to open his presents.
I like this book because it is funny. I liked the part when Biscuit let go of the balloon because it was funny. My favorite part was when Biscuit opened her presents because I like presents.
My friend at school will like this book because she likes puppies.