Donald's Big News
Written by Mary Pacard
Reviewed by Justin C (age 7)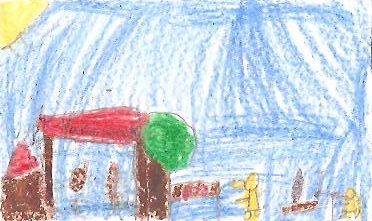 Do you like books about ducks? This book is about Donald Duck thinking Grandma lost the farm. The characters in the book have a yard sale to save the farm. Daisy the duck bakes pies. Uncle Scrooge gave some money to help. Huey, Dewey, Louie and Donald told everyone to save Grandma's farm, and they promised to come to the yard sale. Grandma didn't lose the farm, but Grandma lost something else! Read the book to find out what she lost. The lesson in this book is if you want to help someone, you need to ask what the problem is.
My favorite part is when Grandma says, "Why don't you cut those pies?" and they all have a party. I like this part because I like parties. My other favorite part is when Donald, Dewey, Huey, and Louie tell other people to help save the farm, because I like telling people about things. It was a nice thing that they did, because they were trying to help Grandma.
I recommend this book to 4 year olds and up because they would like the pictures.