Harry Potter and the Chamber of Azkaban
Written by J.K. Rowling
Illustrated by marry Grandpre
Reviewed by Calvin T (age 10)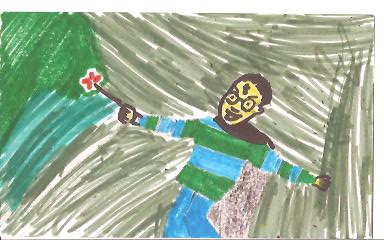 "Harry Potter and the Prisoner of Azkaban," is full of surprises. Harry Potter enters his third year at Hogwarts. As he is in Hogwarts, his school, there are rumors that his godfather, Sirius Black, has broken out of Azkaban (the wizard and witch prison). He soon learns that his godfather is innocent. But, the Minister of Magic finds his godfather and wants to put him to death. Now Harry must save his godfather. Harry Potter has a lightning shaped scar on his forehead. In the story there are many characters you will meet. Snape is the potion teacher. Snape does not like Harry because Harry's father always bullied Snape when he had the chance. Sirus has black hair and wears rags. Sirius is an Animagi. He turns into a dog and it shows this on the front cover. Harry and his friend Hermione ride a hippogrift. A hippogrift is half eagle and half horse. The hippogrift is very useful at the end of the book. J. K. Rowling wrote this book to entertain people. The lesson in the story is that you are innocent until proven guilty.
I think this book is very good. It is very entertaining because there is time traveling and Quidditch (a wizard and witch sport). It will be better if you will read the first book because then you will know more about the characters. You won't understand it if you start this book first. I liked this book because I like fantasy and science fiction books.
I recommend this book to teens because they will understand it more. I think teens who like the series "Charlie Bone" would like the Harry Potter series.