Harry Potter and the Chamber of Secrets
Written by J.K. Rowling
Illustrated by Mary Grandpre
Reviewed by Matthew S. (age 11)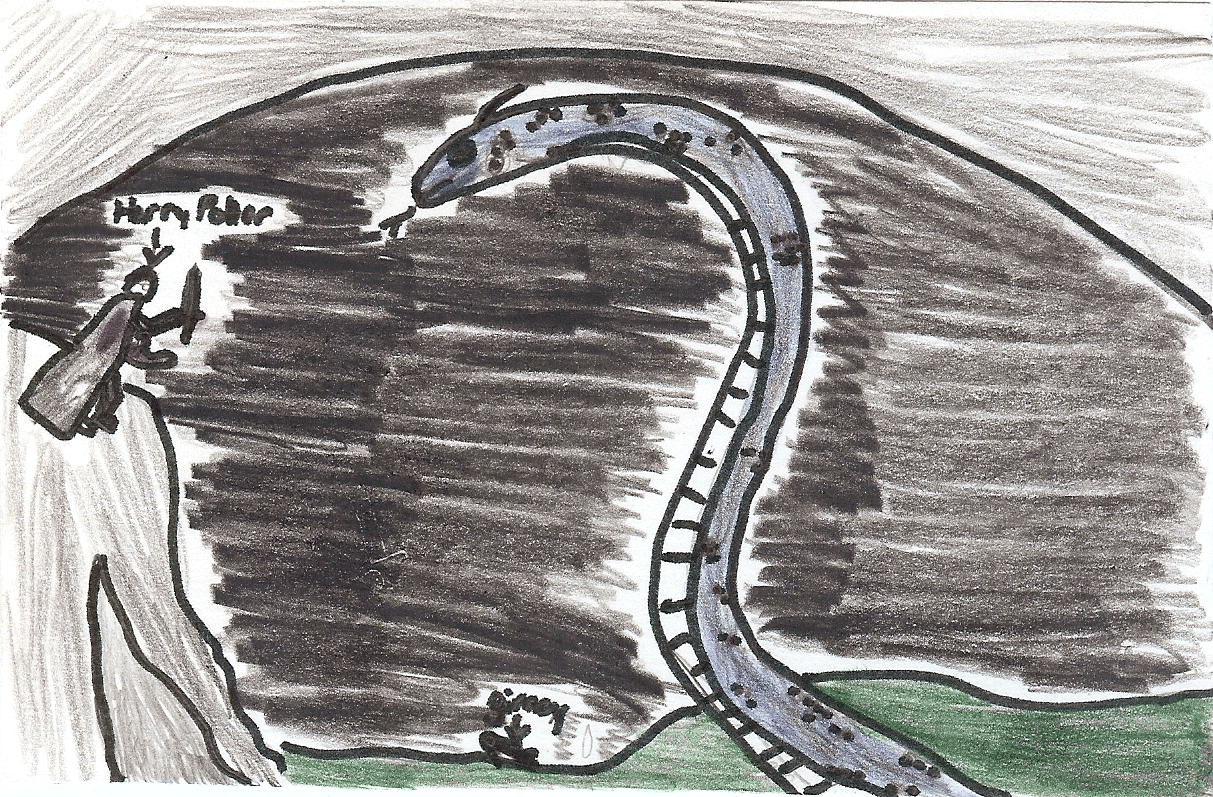 A twelve year-old boy named Harry Potter lived with a muggle family that hated him. Before he lived there, he lived in a house with his parents who were famous. Then one dark night, a wizard named Voldemort killed Harry's parents. On that same very night, Harry survived the killing curse and Lord Voldemort vanished. No one really knew what happened to him.
Harry is in his second year in Hogwarts with his two favorite friends, Ronald Weasley, and Hermione Granger. At Hogwarts, Professor Glido Lockheart is the defense against the Dark Arts teacher. He teaches the students how to duel. Harry and Malfoy duel. Harry learns to speak parsel tongue. Because of that, everyone starts saying that Harry is the heir to the Chamber of Secrets. Harry starts hearing cold and eerie voices inside the walls. The voices inside the walls say, " Kill.. time to kill.. hungry for blood." The mud blood students who don't have magical blood in them like Hermione are petrified. Ron's sister, Ginny Weasley, has a book that was a horcrux of Lord Voldemort.
Professor Lockheart goes with Harry and Ron to the Chamber of Secrets to get Ginney. Professor Lockheart is also gifted of charms and can't remember what happened. Tom Riddle is now speaking to the baskilisk, a large snake, and the baskilisk attacks Harry. Harry kills the baskilisk, but one tooth from the baskilisk stabbs Harry's arm. Harry then stabs Tom's diary and Ginny wakes up! Harry is killed, but Professor Dumbledore's phoenix, Thax, heals the wound instantly with its tears. Then Lucus Malfoy stomps his way to Dumbledore's office. Mr. Malfoy's house-elf, Dabby, is freed. Mr. Malfoy is furious, but before he can do a spell, Dabby say, "Master will not hurt Harry," and blasts a spell across the hall into Mr. Malfoy!
I would change a part in this story. I would change it so Harry never meets Voldemort and uses old magic. My favorite part of the story was when Voldemort's horcrux was killed. My favorite character is Harry because everyone is expecting good things from him, like me. My least favorite character is Voldemort because he is a villain.
This story relates to my life because everyone expects good things from Harry and my family expects good things from me. There are some pictures in this story that tell a little about it. I think others should read this story because it helps you imagine and makes you feel like you are there on Harry's adventures at Hogwarts.