Penguin Pete's New Friends
Written by Marcus Pfister
Illustrated by Marcus Pfister
Reviewed by Camille U. (age 9)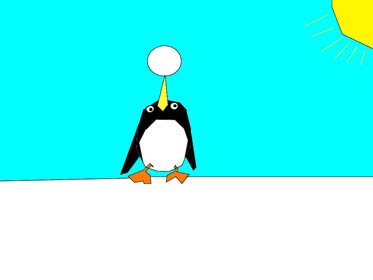 Penguin Pete's new friends is about a penguin who wants to go fishing with the big penguins, so his mom said yes but he needs to come home early enough for dinner. Then he ran to the edge and jumped in the water. Eventually he got tired and found a small island to rest on. Later on something woke him up. When he woke up he found himself in the air because a jet of water pushed him into the air. He was on a whale's back! The whale pushed his head up onto the surface. His name is Walter Whale. He asked why he's on his back. He said he was fishing but now he was done. To find out what happens to Penguin Pete read this book.
My favorite part of the book is when he jumped into the water because it reminds me of when I jump into the pool. When I jump into the pool I feel happy. The pictures in this book were cute. They pop out because they drew lines when it something is supposed to be moving or Pete is in motion. The book reminds me of the water parks I went to during spring break because I went down watery slides like Pete jumping into the water.
I would recommend this book for people who like pictures of penquins or any other animals. I think first and second grade students would enjoy this book.