The Boxcar Children
Written by Gertrude Chandler Warner
Illustrated by Likate Deal
Reviewed by Alissa C. (age 8)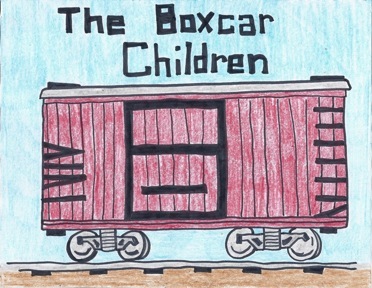 This book is about four children named Henry, Jessie, Benny, and Violet. Their mom and dad have died. They think that their grandpa is mean because he never visits them and never calls them so they run away. They find a boxcar in the woods and decide to live in it and make it their home. While they are living in the boxcar they take care of each other. For example, Jessie teaches his little brother Benny how to read and Henry cuts the grass for Dr. Moore to make money. One day, Dr. Moore was reading the newspaper and it said, "Lost four children." It was grandpa who was looking for them and offering a reward to whoever finds them. All this time they had been wondering around, their grandpa had been looking for them. Does grandpa find the children?
I liked this book because it was fun to learn about children taking care of each other. For example, when Henry went to the store, the kids went to a dump and got dishes and washed them in the lake. They made a table out of a tree stump. I learned that when you run away it is not good because no one can find you and your parents can worry. My favorite part was when Henry got in a race and won $25. Henry won the race because he was fast and focused. First he went slowly, then faster, and then he was in the lead! I wish that there were more illustrations with more details. The best illustration is the cover because it has a lot of details and it shows what the kids looked like when they were running away. This book is the first book made of the Boxcar Children series. I would like to read all of the books and know what all the mysteries are about.
I recommend this book to 8 year olds and up and for kids that like mysteries. I also recommend this book for those who love their family.