Leperchaun In Late Winter
Written by Mary Pope Osborne
Illustrated by Sal Murdocca
Reviewed by Christian C. (age 8)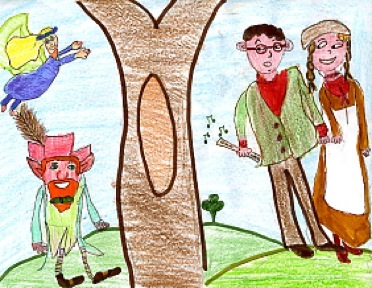 Jack and Annie are on an important mission to Galway, Ireland in the year 1862. Their mission is to find a girl named Augusta and inspire her to use her talents. Augusta loves stories and remembers every story that she has ever heard. But she does not believe in fantasy stories and is a very boring person. The kids were given a magical Irish Whistle to use in case there was an emergency. They play the whistle and fairies and leprechauns magically appear. The fairies disappear and take Augusta with them. Jack and Annie meet a leprechaun named Willy who said he would lead them to the fairies hiding place. What happens to Augusta? Do they get her back? Read this book and find out!
I liked this book because it is magical and talks about leprechauns and fairies. I also liked it because it taught me about Ireland and Irish folktales. My favorite part is when they see fairies riding on horses. Why? Because it was the first time Augusta saw fairies and believed that they were real. I liked the character Augusta because she became a great storyteller and I like stories. She reminds me of myself because I can remember stories really well and I love stories about leprechauns and fantasy. The illustrations were cool because they show a lot of details about the fairies and their culture. The illustrations also helped me to see what Augusta might have looked like as a little girl. This book is the 43rd book of the Magic Tree House series. Another Magic Tree House book called "Leprechauns and Irish Folklore Research Guide" is also good to read with this book because it gives more information about leprechauns and Irish stories. I hope you enjoy this book as much as I did!
I recommend this book to all children ages 8 and up who like Irish stories and fantasy. I also recommend this book to people who like history and would like to know more about Lady Augusta Gregory.