The Red Lure
Written by Roy J. Snell
Reviewed by Zachary L. (age 10)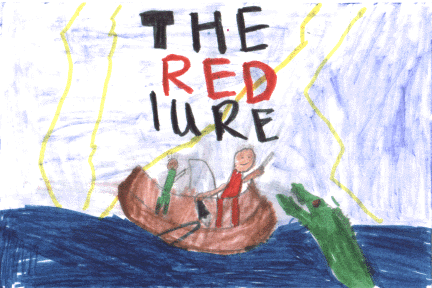 This book is about a boy named Johnny. Johnny is trying to find the Red Lure. The Red Lure is a rare piece of wood. Johnny travels all the way to the African forest to find the Red Lure. Along the way, he encounters booby traps, wild animals such as jaguars, crocodiles and tigers. He also encounters savage Indians who are trying to kill him.
Johnny was about 22 when he went on his adventure. When Johnny was lost in the woods, his crew decided that they did not need Johnny so they left him out in the woods. Johnny met up with an Indian tribe who told him how sacred the Red Lure was to them. Now that Johnny knows how sacred it is, he decies to help the Indians stop the crew from searching forthe Red Lure. Can Johnny stop the crew from staling the sacred Red Lure? Find out if you read this book.
I did not like this book. I did not like this because there was not enough action in it. It was not exciting or funny. Another reason I did not like this book is because I don't like mystery books.
My favorite character in this book is Johnny. I like Johnny because he is the only character with a little sense of humor. The character I liked the least is Julia. I odn't like her because in the whole book she only says a few sentences.
My favorite part of the book was when a crocodile in the river was attacking Johnny. I liked this part because it had some action in it. The part that I liked the least was when Johnny was tlking to the Indians. I did not like this part because I don't like when people talk for a long time.
I picked this book because I looked at the cover and I thought it would be a good book to read. I read the back of it and I thought the book would be really exciting. When I read the book, I knew this book was boring.
I recommend this book for people who like mystery books. I do not recommend this book to anyone that likes action and excitement.