Diary Of A Wimpy Kid: The Last Straw
Written by Jeff Kinney
Illustrated by ChadW.Beckerman
Reviewed by Brian F. (age 11)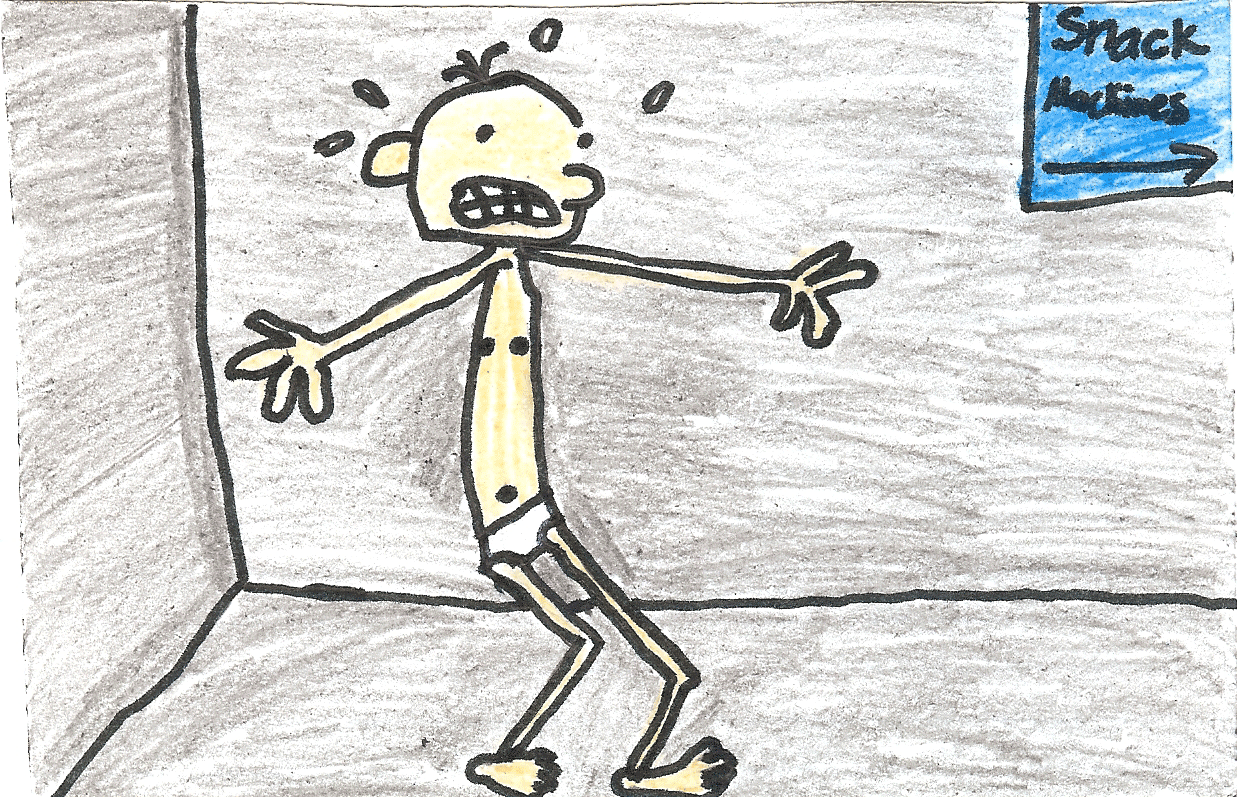 Greg,a middle schooler, starts the new year by helping others with their New Year's resolutions.Christmas has just passed and Greg got a bunch of borring, crummy, gifts like books, clothes, and a laundry hoop. He finds out really quickly that people don't want to be helped. When his dad goes on a diet, Greg finds him secretly eating junk food in the laundry room. Greg's little brother, Manny, gives up his binki, but doesn't last a full minute.After cheating on his diet, his dad gives it another shot and makes Greg's life miserable. He starts the New Year with a new chore and a cranky dad.
Manny makes up the name Ploopy. On Easter, the family goes to church. Manny's chocolate bunny melts on Greg's pants. To cover up the stain he wears an appron. At church that Sunday, Greag sees the girl he likes, Holly Hills. He does every thing he could to avoid her. In church, Greg calls Mann Ploopy. Manny makes a scene, starts to cry, and the whole family has to leave in the middle of the service.
Greg's dad tries to make Greg a little tougher so he makes him join the soccer team. It is frezzing cold outsde and Greg spends most of his tme on the bench. He works his way up from being in the shack to goalie. Greg's life becomes even worse when his dad tells him that he is going to military school for the summer so he can become even tougher. Greg talks his dad out of military school by joining the Boy Scouts. He finds out really fast that the Boy Scouts are not for him. Greg now gets to spend his summer sleeping in, playing video games, hanging out with Rowley, and meeting the new girl, Trista, down the street.
I would not change anything in this story because it was very funny and it kept my attention. My favorite part of the story was when Greg joined the soccer team. It was funny to read what he thought of the players. Greg is my favorite character because he is hilarious. My least favorite character is the dad because he is always telling Greg what to do. I also have a dad that bosses me around and a little brother that can cause your head to go nuts. This story has pictures. It has stick figure pictures and every picture is funny! The pictures do help tell the story.
I think others should read this story. It is hilarious and it will make you laugh your head off because Greg says and does funny stuff with every day life.