Blizzard of the Blue Moon
Written by Geri Keams
Illustrated by Sal Murdocca
Reviewed by Alissa C. (age 8)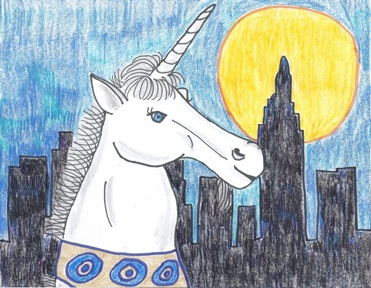 This is a book about Jack and Annie going into the past through their magic tree house to find a Unicorn named Dianthus. They go back to the year 1938 when people were really going through hard times. This was called the Great Depression. It was one of the most hard times in our country's history. Not a lot of people had houses and a blizzard was coming. The radio said that it was going to be a monster storm. Jack and Annie find two other kids named Grinda and Balor who want to bring Dianthus to the Dark Wizard and hurt him. These kids discover the unicorn by calling out his name and pretending to love him. If you want to find out if Jack and Annie save the unicorn read this book to find out!
I like this book because I like unicorns and I like how magical it was when the unicorn became real. For example, the unicorn was on a piece of paper and then it turned into a real unicorn. This book taught me what it was like in New York during the Great Depression. At that time a lot of people had no home or money. They lost their jobs and had hardly any food. My favorite part was when Jack and Annie were riding the unicorn and the weather turned nice and sunny. This was magical to me. I liked the illustrations because they helped me understand the story. They were very detailed and also showed what the characters looked like. This book is part of a Magic Tree House series. It is different from all of the Magic Tree House books I have read because it includes a unicorn and it takes place in New York.
I recommend this book to kids who are 7 years and up and also like fiction books. I also recommend this book to kids who love magic and unicorns.