The Unusual Mind of Vincent Shadow
Written by Tim Kehoe
Illustrated by Guy Francis
Reviewed by Christian C. (age 8)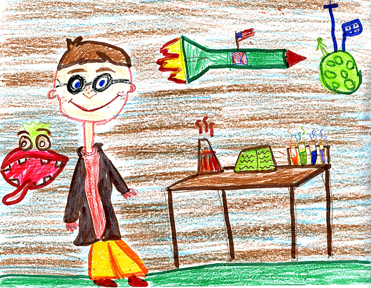 Vincent reached into the dark and pulled on the rope. "Welcome to my lab." This is a book about a boy named Vincent Shadow who tries to invent really cool toys in his secret lab behind his closet. Some of his ideas are the Biting Beast Ball and Sky Writerz. His inventions are sketched all over his lab but, every time he tries to make one, it blows up!! One day Vincent gets a chance to be in a big invention contest. The winner of the contest gets to spend the summer in New York working on toys with a famous inventor named Howard G. Wiz. He decides to develop a windless kite!! But the day before the contest one of the kids who is also in the contest breaks the kite. Does he fix the kite and get to live out his dream as a toy inventor or is he out of the contest? Read this book and find out what happens to Vincent!
My favorite part is when Vincent tries to make one of his inventions in the secret lab. The bubbles from the invention blow up all over Vincent and he is covered in blue. I like the character Vincent in this story because even though he is a nerdy kid he makes really cool toys and teaches me to never give up! The author of the book, Tim Kehoe, is really special because he is a real toy inventor. The toys in this book were his ideas and he has put a small invention book in the back of this book. The illustrations are funny and help explain the inventions and how they are made.
I recommend this book to kids that are interested in inventions. I also recommend this book for kids ages 8 and up and like to read a lot because it is a long book and some of the words are hard to read. I hope you enjoy this book!!