Mr. Popper's Penguins
Written by Richard and Florence Atwater
Illustrated by Robert Lawson
Reviewed by Abby H. (age 10)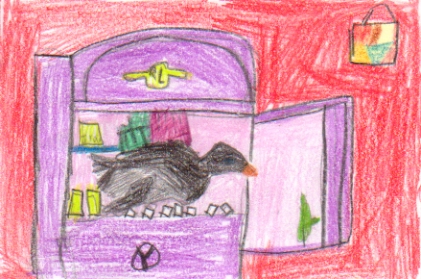 Mr. Popper is a house painter and decorator. The Popper family often has worries about money. This all changed one day when Mr. Popper received a box in the mail. When he opened it, a penguin jumped out of it. Mr. Popper ends up fixing up the house for the penguin. He spends a lot of money on this. He also gets another penguin and eventually ends up getting 12 of them. Mr.Popper has to figure out how to support his family and the penguins. He decides to put the penguins on stage. Then comes a movie deal. Mr. Popper wants to do his best for the penguins. What should he do--make them movie stars, or not? Read the book to find out Mr. Popper's decision.
I liked the book because the penguins were doing funny stuff like sliding down steps. The penguins don't belong in a warm climate. It was funny to see them try to adapt. This book is not like any book I have read because I have never read a book about penguins. I just knew that penguins had to be in a cold climate. I enjoyed reading about the fun they had in Mr. Popper's house.
There are very detailed drawings in this book. You feel like you are there in the book. Robert Lawson illustrated the book. He did it in black and white.
My favorite part was when they didn't shut their window and they had a blizzard. They let the snow sit in the house and the kids and the penguins played in it.
I would recommend this book for grades 3-5. You will like it if you like animal books. You would also like this book if you were in to funny books.