Little House on the Prairie
Written by Laura Ingalls Wilder
Illustrated by Garth Williams
Reviewed by Matthew G. (age 10)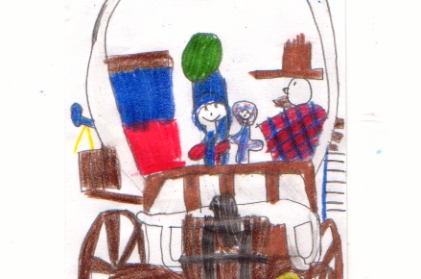 The Ingalls family moved from the Big Woods in Wisconsin to the prairie in Kansas because the "Big Woods" were getting too crowded, There were all the animals they wanted. There were bears, wolves, antelopes, deer, rabbits, prairie dogs, and prairie chickens. One day Pa went hunting, and a pack of wolves came after him, so he gave them the rabbits he shot. One night they heard a scream in the night. Pa went outside to check what it was and it was a panther. Read this book to learn about the other adventures the Ingalls family has.
I like this book because it takes place on a farm. I live on a farm. I can think about all of the things that happened to the children.
My favorite part was when Mr. Edwards came over for Christmas because I like Christmas. The Ingalls were happy to have Mr.Edwards over for Christmas. They never had many people come to see them on the prairie.
It's similar to other books I've read because it's part of a series. They're all by Laura Ingalls Wilder. They all tell about the adventures of Laura growing up. I like the illustrations in the book. It has a few black and white pictures that help tell the story.
I recommend this book to anybody that likes history and stories about the early days in our country. There is a lot of history in this book.