Tornado
Written by Betsy Byars
Illustrated by Doron Ben-Ami
Reviewed by Jacob K. (age 10)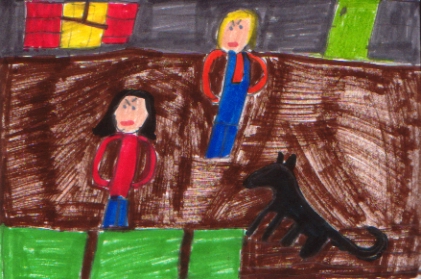 This book is about a dog that was carried by a tornado. Peter adopted him. He became one of the family and they called him Tornado. One time Peter was playing cards with his brother. His brother got mad and quit. So Peter played with Tornado and he won the game of cards. Another time Peter's sister watched her friend's turtle. She put the turtle on the porch in a bowl of water. Tornado thought it was for him. They looked for the turtle for a long time. Then Peter saw the turtle's leg sticking of Tornado mouth. Peter and his father went to town with Tornado. When they came back a girl was hugging Tornado. It was Tornado's old owner. This book is exciting because Tornado keeps getting into trouble. Read the book to find out if Peter gets to keep Tornado and how he gets himself out trouble.
Peter is like me. We like dogs. We both like to play games with our dogs. I like to play fetch with my dog, Bandit.
This book reminds me of Stone Fox because they both have a boy who loves his dog. They both treat them as part of the family. They let the dogs sleep in the house.
This book reminds me of the time a stray dog came to my house and we almost got to keep it. Tornado was a stray dog. I like the way Peter tried to take care of him.
I recommend this book to 4th to 6th grade, but if you like dog you should read this book too.