The Tale of Despereaux
Written by Kate DiCamillo
Illustrated by Timothy Basil Ering
Reviewed by Ashley H. (age 9)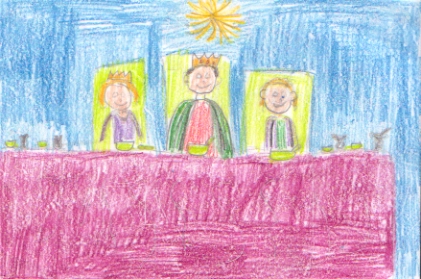 Desperaux is a mouse who is born with very big ears and a very small body. His dad is surprised that he is born with his eyes open. When Desperaux was older his brothers and sisters taught him the ways of being a mouse.They taught him how to go through the passage ways and find crumbs. One day his sister was teaching him how to nibble on paper. Instead of eating the paper on the book, Desperaux read the book. He thought the book was wonderful. The 4 words that really caught his eye were "Once upon a time." Oh how Desperaux loved to read that book! It was a book about a knight in shining armor saving the princess. One day when Desperaux was going to read the book in the library, he heard the most wonderful music. He listened very closely. It was as if he was being pulled toward it. Then the king who was playing the music stopped because he saw Desperaux. Desperaux saw Princess Pea, the girl the king was playing for. When Desperaux saw Princess Pea, he instantly fell in love with her. The king said that Desperaux was a bug because he was so small. Princess Pea said that Desperaux was a mouse.Then she started petting him. At that moment his brother came by and saw everything. He said," That Desperaux is sick!" Then he ran very fast to tell Dad. The dad pounded at his drum for he was going to hold a meeting with the mouse council. They all agreed that Desperaux should go to the dungeon for being seen and touched by a human. A girl named Miggery Sow comes along. She wanted to be a princess. She teamed up with a rat to take Princes Pea to the dungeon. What will Desperaux do to get out of the dungeon and save Princess Pea and make everything okay with his dad and him? Read the book to find out.
I liked this book because it was like a fairy tale . When Desperaux is lost in the dungeon, he still wants to rescue Princess Pea
My favorite part was when everybody was eating soup together, The king liked rats and Desperaux's parents liked him again. Miggery Sow had her father back.
Miggery Sow was my favorite character. She was beaten more than 10 times per day. She wasn't the sharpest knife in the drawer either. Her Mom died and her father sold her. I never thought a book would have a mouse, a princess, some soup, and a red spool of thread together in a book. The rats take Desperaux's red spool of thread, Pea's mother died when she was eating soup because a rat climbed into it.
This book would be good for 2nd grade and up-- girls and boys because it a bedtime story for big kids.