Mr. Popper's Penguins
Written by Richard and Florence Atwater
Illustrated by Robert Lawson
Reviewed by Madison R. (age 9)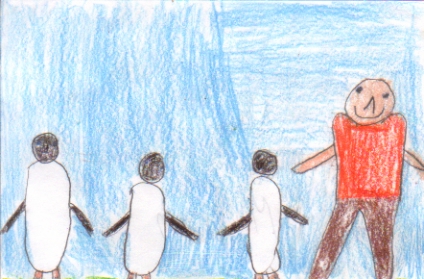 Mr. Popper always read about Antarctica and penguins. He called Admiral Drake because they were having a contest for their first broadcasting. The radio announced a winner. The winner was Mr. Popper and he won a penguin. He named him Captain Cook. In Antarctica, the other penguins didn't want Captain Cook to be lonely, so they kept sending more and more penguins. Mr.Popper got twelve penguins. Mr.Popper's kids were very happy. The names of the penguins were Captain Cook, Greta, Columbus, Victoria, Nelson, Jenny, Magellan, Adeline, Scott, Isabella, Ferdinand and Louisa. Mr. Popper had a choicee to make. He could either leave the penguins or get rid of them. If you want to find out what he did, you will have to read the book.
My favorite part is when Captain Cook flew out of the box. It was really funny when it scared Mr. Popper. He was not expecting a live penguin. The penguins remind me of my dog. My dog is always crazy and she jumps up and down on me. The penguins were always running around and jumping around like my dog.
This book received a Newberry Award for a great story. That means it is a very good book. I thought it was amazing the way that Mr. Popper treated his penguins. They're fun to watch when they make Mr. Popper mad. When all of the penguins came to live with Mr. Popper I didn't know what he would do. Mr. Popper never thought he would get have penguins for his favorite pet.
I would recommend this book Mr. Popper learned how to be friends with all of the penguins. I think a second grader and older would like this book.