Vampire Breath
Written by R.L. Stine
Reviewed by John K. (age 10)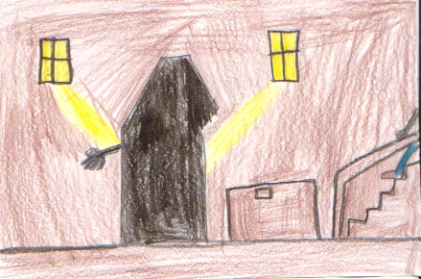 Vampire Breath is a about two children that go into their basement. They find a bottle that says "vampire breath". They open it. A green mist comes out.They find a secret door. They open it and find a vampire. The green mist takes them back in time to the vampire's castle. All the vampire wants is the vampire breath bottle. But does he get it? Read the story to learn about the Cara's and Fred's adventures with the vampire.
I liked reading this book. It was about two children that went in their basement and found a bottle. It was scary. I didn't know what was happening as they went back in time.
My favorite part was when they were trapped in the castle. I like castles, especially this one that belongs to a vampire. It was very scary, too.
I liked the vampire. He didn't have any fangs. He was scary and couldn't talk very well. He needed the kids to help find the vampire breath.
This book is part of the Goosebumps series. These are books meant to scare the reader.
I recommend this book to people who like scary mystery books. They will get scared reading this book.