Goosebumps- Monster Blood
Written by R. L.. Stine
Reviewed by Nihant G. (age 8)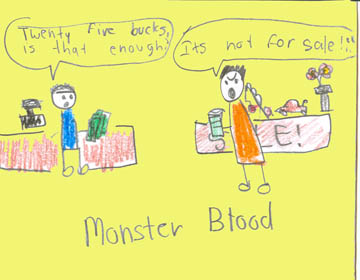 Evan is staying at his weird, deaf great aunt's house. Now there is no changing his mother's mind about him staying there, while she finds a new house in Atlanta. At least he has his cocker spaniel to keep him company. Evan is thinking maybe he can make new friends and his summer won't be so bad after all. He is half right. His summer was off to a bad start, then he makes a cool friend named Andy. Evan went to a toy store and bought the monster blood slime and from the time Evan opened it things started to go wrong.
I liked this book because it showed teamwork between Andy and Evan when they tried to control the monster blood. My favorite part of the book was when Evan bought the monster blood because his mom gave him twenty dollars to spend. This was the best part because Andy started whining because there wasn't enough monster blood for her to buy too. Trigger, the cocker spaniel, was my favorite character because he liked to play around. It was funny when Trigger accidentally ate the monster blood and that made him get bigger.
I recommend this book to all mystery readers. Students in grades three through five would enjoy reading this book. R. L. Stine is a great writer. He makes this book easy to read and interesting at the same time.