Magic Tree House: Summer of the Serpent
Written by Mary Pope Osborne
Illustrated by Sal Mardocca
Reviewed by Trason D. (age 8)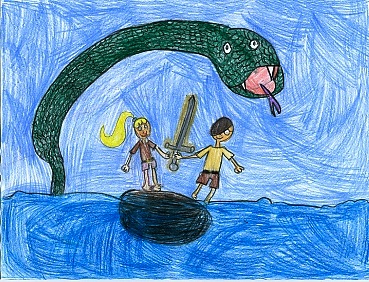 In the Summer of the Sea Serpent, Annie and Jack went to the tree house and are on a new mission. Merlin sends them on a mission to kill the Sea Serpent. On the way they meet a Water Knight, a Spider Queen, and a Water Horse. The Water Knight picked them up and put them on his Water Horse and took them on an amazing ride. What happens to Jack and Annie? Who helps them complete their mission? I guess you will have to read the book!
I liked the book because it has magic in it. My favorite part was when they rode on the knight's Water Horse and they go to a really scary cave! I thought the Spider Queen is the best character because she reminded me of the Queen of Hearts in Alice in Wonderland. I loved the illustrations in this book because they are funny, talented, and help your imagination. This book is part of the Magic Tree House series, and each book sends the kids on a different mission.
I recommend this book to second graders who like fantasy. I also recommend this book for kids who like the Magic Tree House books.