A Good Night For Ghosts
Written by Mary Pope Osborn
Illustrated by Sal Murdocca
Reviewed by Alissa C. (age 8)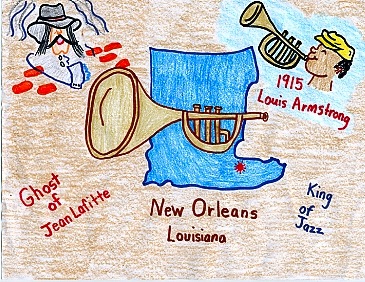 "Louis Armstrong, he is the king of jazz!" said Annie. This is about Jack and Annie going into the past in the year 1915 in New Orleans and finding Louis Armstrong. When they meet him he is a kid packing bananas at the dock, and the kids decided to join him to see what his life was like. When he was not working, he would always play the horn. Annie and Jack wanted him to spread his musical talent into the world. One night there was a bad storm and the kids found themselves inside an old haunted blacksmith shop. Want to know what happens to Louis, Jack and Annie? Read this book and you will find out!
I liked the book because it tells us about the life of Louis Armstrong and what he did growing up in New Orleans. I also liked it because he was from Louisiana and so am I. My favorite part is when they were in the haunted blacksmith shop and Louis plays the horn. When the ghost of Jean Lafitte and the other pirate ghost arrived at the shop, they were mean. This gave me the heebie jeebies, but I couldn't wait to read more. I liked the illustrations because they helped me create the characters in my mind. This book is part of the Magic Tree House series and is similar to Ghost Hunters.
I recommend this book for kids 8-10 years of age who like to learn about history. I think all kids from Louisiana should read this book.