My Ol' Man
Written by Patricia Polacco
Illustrated by Patricia Polacco
Reviewed by Abby (age 6), Robert (age 10) & Grace (age 10)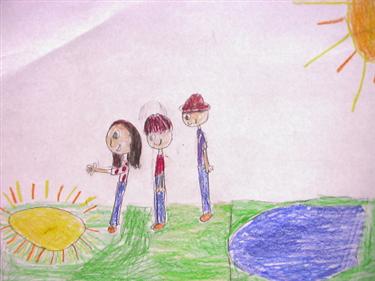 My Ol' Man is about a girl named Patricia, and her father likes to tell stories. When Patricia, her father, and Ritchie finds a magic rock, Patricia's father lost his job and everyone is wondering why isn't the rock working? The magic rock is big and has lines in it. You can feel the magic glow inside it. I am wondering if Patricia's father will get a new job. I am also wondering if the magic rock will still work. This book has lots of surprises in it. I love this book!
I like this book because it has a magic rock in it and I like magic. I also like it because it has a bunch of great words in it. This book is one of my favorite books. I love how the author explained how Patricia's father dresses himself. I also like how the author explains the magic, glowing rock. One of my favorite parts of the book is the part when the author explains the magic rock by saying that it glows and has lines in it. The pictures in it were very detailed. I like that at every page it makes me smile. Those are lots of great things I love about this book.
People who like magic would love this fabulous book. This book is great for people with big imaginations. I read it just for entertainment, happiness, and enjoyment. This book is perfect for all ages. This book is great because it is a great for people who adore magic and love Patricia Polacco's amazing, fantastic books.