Katie Kazoo, Switcheroo: Oh Baby!
Written by Nancy Krulik
Illustrated by John & Wendy
Reviewed by Kavyaa P. (age 6)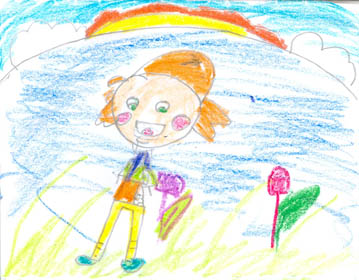 The story is about Katie, Susan and Jeremy. Katie goes to Susan's house to meet her baby sister. Susan and Jeremy were trying to get the baby's bottle. The magic wind made Katie switch places with Heather, the baby. Katie tried to suck her finger but really sucked her toe. Jeremy and Susan couldn't find Katie. Read the book to see how Katie turns back into her self.
I like the book because the magic wind blew Katie into Heather, the baby. I like Katie because she talks without moving her lips. The illustrations looked like real people and I like black and white pictures.
I will recommend this book to my friends because the book is so fun to read.