Tales of a Fourth Grade Nothing
Written by Judy Blume
Illustrated by Roy Doty
Reviewed by Alissa C. (age 8)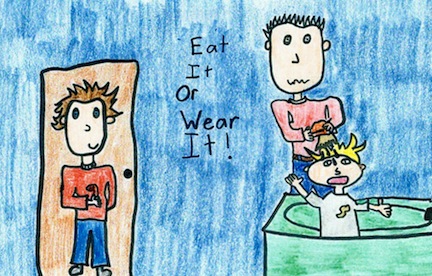 This story is about Peter and his little brother, Fudge. Fudge is always annoying Peter. He gets Peter in trouble a lot. In the beginning, Peter won a turtle at his friend's birthday party. He named him Dribble. Peter does not want Fudge to do anything with his turtle. In the end, Peter ends up with a puppy that he names Turtle. What happened to Dribble? Read this book to find out what happened.
This book is not part of a series, but there are more books about Peter and Fudge. One of my favorite parts of this story is when Fudge would not eat his cereal. His dad said, "Eat it or wear it." He dumped it all over Fudge's head and Fudge started to scream. It made me think of something that my dad might do. I liked the illustrations because it let me see the characters and what they looked like. The characters were drawn like funny cartoons which made me smile.
I would recommend this book to anyone with a little brother or sister. It was a very funny book and you will laugh a lot.