The Mysteries of Spider Kane
Written by Mary Pope Osborne
Illustrated by Mary Pope Osborne
Reviewed by Ken C. (age 7)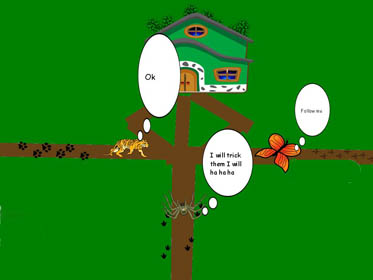 A tiger and a butterfly became friends in this book. Then mysteries thigs happen to them! One of them is a spider tries to trick them but he failed. The first time the spider tried to trick them he was almost successful. The third time he did trick them. I didn't know it was going to happen so it was surprise.
My favorite animal is the butterfly because his eyes were shiny. That is why I like the butterfly. My favorite part was when the spider tried to trick them but he got caught in his own trap. When I finished this book I felt happy because it was my first chapter book.
I would tell someone to read this book because it has mysteries. The mysteries are awesome and cool! Everytime I got to the end of a mystery is was a good surprise. That was the best book I ever read! Any reader that likes Mary Pope Osborne books will love this book too!