Joey Pigza Swallowed the Key
Written by Jack Gantos
Reviewed by Glory U (age 11)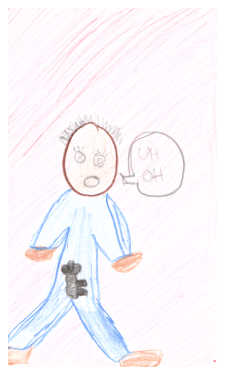 In the book Joey Pigza's mom leaves him, so he lives with his grandma and he's a very crazy. He needs to take medication to keep him calm. The doctor doesn't think that it's the right medication for him because the medicine he is taking is not keeping him calm. When Joey was in his school's hallway he ran with scissors and cuts the tip of his classmate Maria's nose. Joey attempts to put Maria's nose back together, but it didn't stay on. The principal sees Maria's nose has been cut off and Joey gets in trouble. The principal places Joey in Special Ed, but Joey is afraid about what Special Ed will be like. When Joey arrived at his Special Ed class and he walks into a class party. The teacher was passing out cupcakes to the students, but Joey was afraid to eat one because he thought he would get crazier and stay in the class forever. If you want to know more about the book you should definitely pick it up at the book store and read it.
I think the book is funny because the character Joey Pigza is crazy and a likable character because he does a lot of funny and crazy things. For example when Joey went to get a checkup at the doctor's office, the doctor stepped out and Joey went into the cabinet in the office and took all the bandages and placed them all over his stomach. When the doctor came back into the room and checked Joey for his heartbeat, he was alarmed at all the bandages on his stomach and he thought Joey was being abused. The story and illustrations work well together. It's hard to believe that someone and could swallow a key and do the things that he does with the key and the illustrations help you believe such an unbelievable story. For instance I enjoyed the illustration where the key was still inside of his stomach.
I recommend this book to people that act the same as Joey Pigza does. I think they will like the story because they could relate to Joey and the person could say, "Oh I act like the same as Joey". I also recommend the book to people that like to laugh because this book does a lot of crazy things they will laugh too. And they might share it with other people that like to laugh also. You could learn a lesson from this book about how Joey does things he is not supposed to do and how he ended up in Special Ed.