One Fish, Two Fish, Red Fish, Blue Fish
Written by Dr. Seuss
Illustrated by Dr. Seuss
Reviewed by Selina T. (age 7)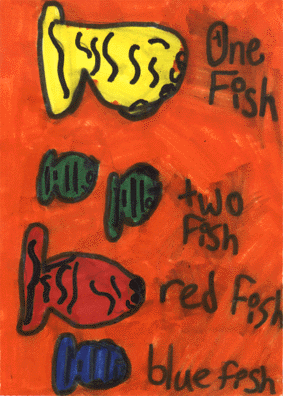 This is about different made up animals and different kinds of fish. It is a really long book. The animals help people. They make people laugh and they make funny noises. I like this book because it is funny. I like the part when I see a Yink.
My favorite part is when I see the Yink drink the pink drink. My favorite character is the pink dog because it is cute. The pink dog is the Yink. I like the pictures because they are funny pictures and funny animals. I think they are cute too.
I recommend this book because it is really nice. If you like Dr. Seuss books, you would like this book.