Holes
Written by Louis Sachar
Reviewed by Madison R. (age 9)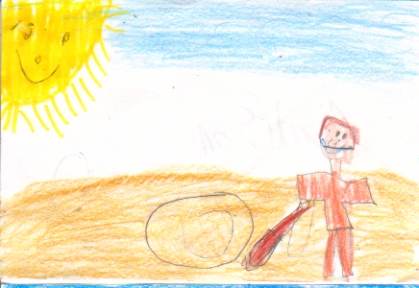 Stanley Yelnats has a curse. He was walking home from school when a pair of shoes came from the sky. They fell from a bridge that he was walking under. He was accused of stealing the shoes. Stanley has to go to court. He had a choice. He could go to Camp Green Lake or go to jail. Stanley picked Camp Green Lake. When Stanley arrived, he met a boy named Zero. Zero and Stanley became friends. Some strange things happened at Camp Green Lake. If you want to find out what they were and if Stanley gets out of Camp Green Lake, you will have to read the book.
My favorite part was when Zero tried to escape by driving Mr. Sir's truck. He drove it into a hole. He wanted to escape because he was tired of digging holes.
This book reminds me of another book that I have read called "Call Me Ruth" by Marilyn Sache. She tries to fit in just like Stanley.
I felt bad at the beginning of the book because Stanley had to go to Camp Green Lake because he was blamed for something that he did not do. It reminded me of a time that I got accused of doing something that I didn't do. I felt really bad, and I know how Stanley felt.
I would recommend this book to anybody who likes adventure and enjoys seeing people, who are considered the underdog, come out on top. I think anyone who is in 4th grade or older will enjoy this book.