Diary of a Wimpy Kid
Written by Jeff Kinney
Illustrated by Jeff Kinney
Reviewed by Joel V. (age 9)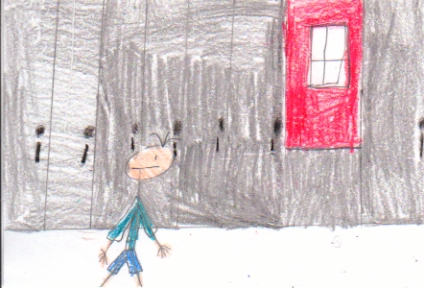 Diary of a Wimpy Kid is about a kid named Greg. He gets picked on by his older brother. He wants to become a hall monitor so he can be important. But he gets caught picking on the preschoolers and gets kicked out. Now he is trying to get another chance so he can get his duty back and get more hot chocolate as a reward.
I thought this was a funny book. Greg gets into trouble a lot, like when he tries to make his little brother, Manny, laugh when he is drinking milk, and the milk gets spilled all over the car. Manny is a daredevil. Rowley is Greg's best friend. He is just plain weird! He keeps doing the same thing over and over again. Every Halloween, he does the same thing---he wears baby clothes as his costume. You would also enjoy reading about when Greg and Rowley try to build the world's biggest snowman.
I felt as though I could be writing this book. I could be Manny. I like the way he has fun. He does many of the things that I would do.
The Diary of a Wimpy Kid is a series of books. This book reminds me of the #2 book. I think these books are the funniest books I've ever read. I will bet that you will get a lot of laughs too.
I really would like to recommend that you read this book. Anyone who is in third grade or older will really enjoy it.