Shiloh
Written by Phyllis Reynolds Naylor
Reviewed by Samantha K. (age 9)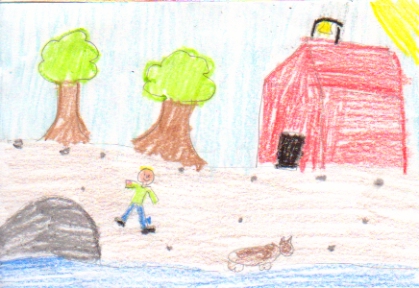 Marty met Shiloh by an old schoolhouse. Shiloh is a beagle that has been abused. Marty falls in love with Shiloh. He wants to keep Shiloh, but he knows he belongs to Judd Travers. Marty has to bring Shiloh back to Judd Travers, but he doesn't want to. Marty doesn't like Judd, because he has seen another beagle that has a bullet in his head and he thinks that Judd shot it. Marty hides the dog and sneaks food to him. His parents do not know that he has him. You will have to read the book to find out how Marty wins Shiloh.
This book is very good and I lliked reading it very much. There is a dog in it and I love dogs. My favorite part is when Marty wins Shiloh from Judd. The book is special because it shows how a boy and a dog can become friends. I also liked the way Marty taught Shiloh how to be quiet when he was hiding him. I felt really good when Shiloh was rescued.
The part of this book that reminds me of something that happened in my life was when Shiloh is attacked by the German shepard. My dog got attacked by a German shepard, and almost got killed.
This book is not part of a series, but it does have a sequel called Shiloh's Season. There are dogs in both of them and Shiloh and Marty are the main characters.
I do recommend this book. If you like dogs and stories about animals getting rescued, you will love reading this book. It is for boys and girls and students from 4th-6th grade will find it good reading.