Stone Fox
Written by John Reynolds Gardiner
Illustrated by Marcia Sewall
Reviewed by Jacob K. (age 10)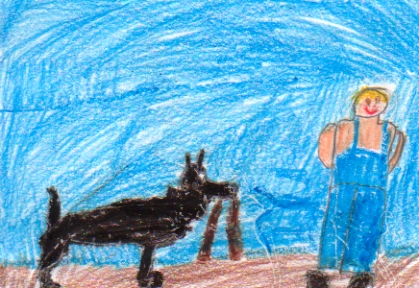 Little Willy and his grandfather are living on a potato farm. One day Little Willy's grandfather gets sick and can't get out of bed. Little Willy doesn't know what to do. He gets the doctor. Little Willy has to run the farm until his grandfather gets well. He finds out that grandfather owes $500 on the farm. He enters a race in which the prize is $500. Read the story to find out if Willy wins the race.
I liked the way that Little Willy wanted to help his grandfather. It took a lot of courage to be in the race. Little Willy loved his grandfather a lot .
It is a happy book because Little Willy hopefully will save the farm. I felt anxious when I was wondering if Little Willy could win the race. But there are sad parts too. Little Willy has to make a big sacrifice when he loses Searchlight, his dog.
I felt horrible when Searchlight died. Parts of this book remind me of myself. I know what it is like to have your dog die. My dog died of old age and I really miss him a lot.
I recommend this book to all kids who like dogs and sled races. It is a really good book to show the love between family members.