Babe Ruth Saves Baseball!
Written by Frank Murphy
Illustrated by Richard Walz
Reviewed by Chris R. (age 7)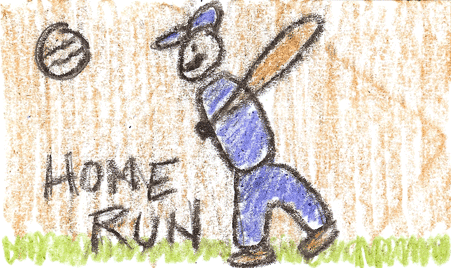 Have you ever heard of George Herman Ruth? His nickname was Babe. He was a great baseball player. This book tells about how Babe Ruth saved baseball. Some people cheated at baseball in 1919. Fans stopped going to baseball games and didn't like baseball so much anymore. Babe Ruth made a promise to people that he would hit 50 home runs. He hit 54 home runs and people started to like baseball again. Babe Ruth did more to save baseball and you can find out how he did it if you finish reading the story.
I really liked this story because I love baseball. I think this story tells people that you have to practice to become good at something. I liked the pictures in the book because they make Babe Ruth look big and strong. They also show a real picture of Babe Ruth at the very end of the book.
I think all baseball players should read this book because it helps you learn to practice and be a good player. I think softball players would really like it too.