Number the Stars
Written by Lois Lowry
Reviewed by Faith A. (age 9)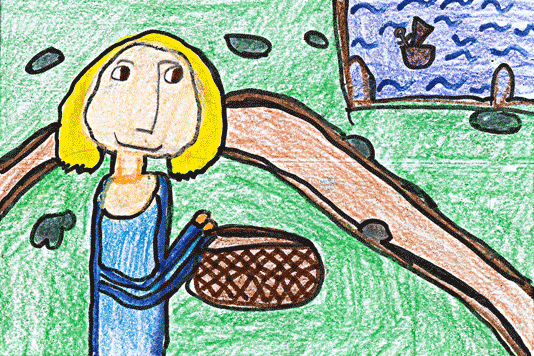 One day a girl named Annemarie and her friend Ellen run into a Nazi soldier! Then Ellen is separated from her parents! She is only hiding, but she still doesn't know where her parents are. Ellen stays with Annemarie to hide from Nazi soldiers at Uncle Henrik's house, and soon is reunited with her parents. She has to say a sad goodbye to Annemarie, her best friend! Ellen and her family move to Sweden on Uncle Henrik's boat to a secret hiding place!
In this book, one of the main themes is bravery. Ellen was brave when she had to be separated from her parents. Annemarie was also brave when she was running through the woods to bring a secret package to Uncle Henrik and had to act like Kirsti (snotty, feisty, stubborn, and brave). I enjoyed this book because the author writes with a lot of suspense. It made me feel like I was watching TV, for example. Imagine you're watching your favorite show. Then a commercial comes on and you want to know what's going to happen next. That's how I felt about this book! My feelings while reading this book were happy, surprised, absolutely shocked, and sad. I found Annemarie interesting because she's like me. She always wants to know what's going on, she's brave, and she's a good role model for her little sister, Kirsti! This book is special because it won a Newbery Award, and it deserved it! This story reminds me of my brother because he's annoying, tattles on me for things I don't do, and he's smaller than me, just like Kirsti. This story reminds me of my life because Annemarie was separated from her friend Ellen, and I move a lot and have to say goodbye to my friends just how Annemarie and Ellen did.
I think this is a good book for 4th grade and higher. I think this was a lovely book, and I hope that Lois Lowry keeps making wonderful books! On a scale of one ten, I think this is a 10!